Aeronaut's state-of-the-art SiliconEye machine vision system is the answer to interactive nesting, nesting into irregular shapes, pattern matching, pattern recognition, image tracing and alignment with registration marks. 
SiliconEye consists of a digital SLR mounted over the cutting table or a digitising station. The camera and lens are calibrated with SiliconEye to remove any inherent distortion in the system so that images are accurately represent what's on the table. 
SiliconEye is fast, accurate, easy to use and very cost effective. Because SiliconEye uses off-the-shelf digital SLR cameras and lenses, the cost of the system is very much lower than image capture and pattern recognition systems have been in the past. And SiliconEye is much, much faster, cheaper and more accurate than digitising tablets.
Calibration of the lens and the overhead system are one-off jobs. Once that's done, accurate images can be imported into the background of a queue in a matter of seconds.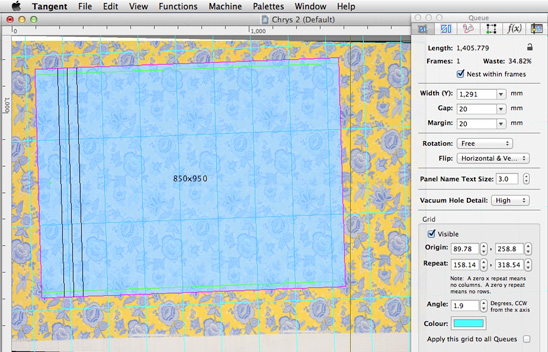 SiliconEye can radically improve production workflow on patterned fabrics, digitally printed fabrics, packaging and display materials and pre-printed board, leather hides, paper and card patterns or anywhere you want to accurately and quickly align a pattern onto a piece of material on the cutting table. Whether it's off a roll or a piece of scrap fabric… SiliconEye lets you see where to cut it. In fact, SiliconEye makes it so quick and easy to nest into irregular shaped pieces of material that the reduction of waste can pay for the SiliconEye system in no time at all.
But there's a lot more to SiliconEye than just putting a photograph behind a nesting queue. SiliconEye has an incredibly rapid tracing engine optimised for creating patterns ready for cutting. SiliconEye recognises basic shapes such as circles, ovals, lines and notches and creates patterns in seconds not hours.
SiliconEye is perfect for people who have lots of legacy patterns which need digitising or who prefer to work with traditional paper, card or plastic patterns when developing a product. Of course simple products such from car mats to horse blankets can be just laid out on the cutting table, digitised and cut right away.
Where SiliconEye is used for leather nesting, the faults can be marked either on the hide or over the photograph in the queue. Tangent lets you zoom into the queue to identify textures, grain and faults. The opacity of patterns in a Tangent queue can be easily adjusted to allow the background image to be visible through the pattern. This allows simple and fast interactive fault, stripe and pattern checking.
Back in 2002, Aeronaut released the Silhouette software for use with leather nesting and tracing patterns and hides. Silhouette offered users the ability to trace patterns and hide outlines and export as DXF, ready for importing into a nesting queue. While the system worked well, having two pieces of software was not an ideal workflow. Having SiliconEye integrated into Tangent and the ability to nest over photographs or a traced image gives much more power for a lot less money. And the beauty is that for once, you can see what you're doing.
When Silhouette was developed, the best SLRs were 5 megapixels and cost upwards of $7,500. Right now, a 25 megapixel camera can be had for under a quarter of that price and camera, interface and computer speed has increased to the point where it's possible to take a picture and import it into the background of a nesting queue in a few seconds.
Where we used to use digital LCD projectors over a vacuum table to give real-time interactive nesting, it's now faster, easier and better to import a high resolution picture into the nesting software and nest patterns directly over the image. You can zoom right in to position patterns accurately with far more detail than possible with an overhead projector.
SiliconEye can automatically reposition patterns in the queue to match the registration marks, or stretch or rescale the path to give the best fit on the background image.   
Please contact Aeronaut or a dealer to find out more and see how SiliconEye will improve your production.